Every Month, a Notice Blog will appear on the Site when I suggest the exclusive Book of the Month in Gouth Book Reviews. Some Books of the Month may have been/not been reviewed in this Site. Every Book could be Chapter-Books, as I will post some Chapters/Extracts from the Book of the Month.
Anyway, we shall nominate the Book of the Month for July 2017, this goes to; Harry Potter and the Prisoner of Azkaban !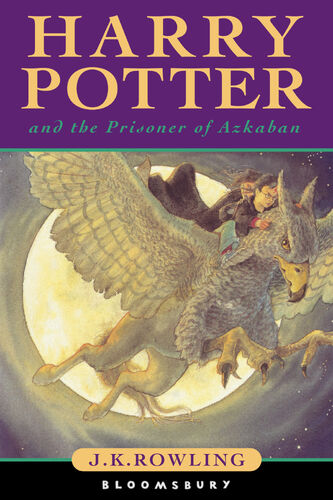 Book 3 – The Prisoner of Azkaban (PDF BOOK)
CHAPTERS
Harry Potter and the Prisoner of Azkaban
Harry Potter's third year at Hogwarts is full of new dangers. A convicted murderer, Sirius Black, has broken out of Azkaban prison, and it seems he's after Harry. Now Hogwarts is being patrolled by the dementors, the Azkaban guards who are hunting Sirius. But Harry can't imagine that Sirius or, for that matter, the evil Lord Voldemort could be more frightening than the dementors themselves, who have the terrible power to fill anyone they come across with aching loneliness and despair. Meanwhile, life continues as usual at Hogwarts. A top-of-the-line broom takes Harry's success at Quidditch, the sport of the Wizarding world, to new heights. A cute fourth-year student catches his eye. And he becomes close with the new Defense of the Dark Arts teacher, who was a childhood friend of his father. Yet despite the relative safety of life at Hogwarts and the best efforts of the dementors, the threat of Sirius Black grows ever closer. But if Harry has learned anything from his education in wizardry, it is that things are often not what they seem. Tragic revelations, heartwarming surprises, and high-stakes magical adventures await the boy wizard in this funny and poignant third Book of the beloved series.

 Quotes
"I solemnly swear that I am up to no good."
"Mr. Moony presents his compliments to Professor Snape, and begs him to keep his abnormally large nose out of other people's business.
Mr. Prongs agrees with Mr. Moony, and would like to add that Professor Snape is an ugly git.
Mr. Padfoot would like to register his astonishment that an idiot like that ever became a professor.
Mr. Wormtail bids Professor Snape good day, and advises him to wash his hair, the slimeball."
"Are you insane? Of course I want to leave the Dursleys! Have you got a house? When can I move in?"
Harry and Ron both made furious moves toward Malfoy, but Hermione got there first – SMACK!
She had slapped Malfoy across the face with all the strength she could muster. Malfoy staggered. Harry, Ron, Crabbe, and Goyle stood flabbergasted as Hermione raised her hand again.
"Don't you dare call Hagrid pathetic you foul—you evil—"
"Hermione!" said Ron weakly and he tried to grab her hand as she swung it back.
"Get off Ron!"
Hermione pulled out her wand. Malfoy stepped backward. Crabbe and Goyle looked at him for instructions, thoroughly bewildered.
"C'mon," Malfoy muttered, and in a moment, all three of them had disappeared into the passageway to the dungeons.
"Hermione!" Ron said again, sounding both stunned and impressed."
"And it's Gryfindor in possession again, as Johnson takes the Quaffle— Flint alongside her —poke him in the eye, Angelina —it was a joke, professor, it was a joke…"